23.10.01 The Crossfishes: Slava (drum-machine) + Chaos as Shelter (ambient textures and saw) + Igor18 (bass) + Ant (vocal Gnoy and Salo) at Mehoga 4, Tel-Aviv
creating
unique
moments
of timelessness
The Crossfishes was formed as an improvisation project joining together Israeli underground musicians. Recordings of the Crossfishes are always live recordings of on-stage improvisation with constantly changing members. Each Crossfishes recording sounds different, between Noise and Jazz, the Crossfishes play it all.
Crossfishes is a free musical improvisation collective uniting the most interesting artists of the Israeli avantgarde musical scene. No Crossfishes show is ever rehearsed, nothing is prepared beforehand - this is music being born in front of you, that pulls you inside, into the stream, in which you too, can live and die, only to be born again in the end. This is a musical game with no rules, only inutition. Crossfishes are interested in bringing the excitement back into music-making - both by turning it into a public process and by using the widest possible range of musical instruments like laptop computer, theremin, synthesizers, drumboxes and bent appliances on the electronic side and jew-harp, dizi flute, clarinet and bass gutiar on the traditional side.
For the different shows the Crossfishes line-up is as follows:
---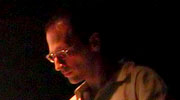 Slava Smelovsky (drum-machine, theremin, jew-harp) - a half of Grundik+Slava - an international electroacoustic project with numerous works released in Israel and abroad.
---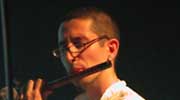 Ant Weiss (laptop, throat-singing, bells) - formerly the leader of avant-hardcore outfit Ausweis, currently an active player in the local experimental electronics scene. Is participating in Weiss Und Engel, and has a solo glitch/clicks&cuts/noise project called Forma.
---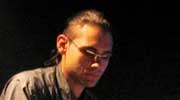 Lev Bomshtein (electronics, bent devices) - a talented multi-instrumentalist, part of the Zvukoprorocessor team.
---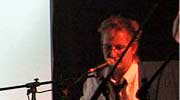 Stephan Friedman (electric guitar + e-bow + slide + effects, Guinness Irish Black Whistle, vocals) - formerly the instigator of experimental-electronics-punk act "Antiochus", currently conducting a dark ambient / ritual / dark folk project "Silence & Strength" (formerly "Gesichter des Todes"). Has been an active participant in various performances of Zvukoprocessor.
---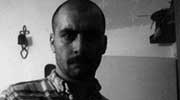 Vadim Gusis - the man behind Israel's most notorious dark ambient project Chaos As Shelter, releasing his works in labels all over the world.
---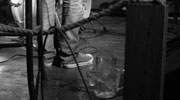 Igor Krutogolov - Bass, voice, toys and noise. Israeli musician and composer, writes music for "Kruzenshtern & Parohod", and also participates in other music projects. Played drums in the past, plays bass from 1998. Doesn't recognize any musical style. In essence - punk.
---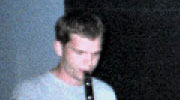 Ruslan Gross
---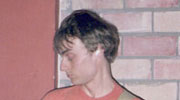 Sergey Engel - composer, visual artist, talented bass and guitar player, participant of Ausweis, Shoom, WeissUndEngel, the owner of www.meatexz.com
---

Yevgeniy Klarance
---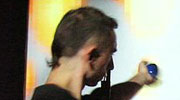 Max Tigay (VJ Kolika)
---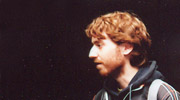 Alexander Rozet
---
"Top Secret" sheet from Croossfishes show (click to view the full size picture) :

Тэги записи:
installations and other projects
,
kunstkamera: concerts
,
kunstkamera: photos