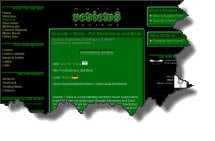 Grundik + Slava is a long standing electronic music collaboration forged between musicians Igor �Grundik' Kasyansky and Slava Smelovsky both Israeli and both born in Russia . "For Electronics and Birds" is Grundik + Slava's fourth full length release and is the first Grundik + Slava release to enjoy worldwide distribution. Grundik + Slava have been enjoying a thriving underground existence that has included live performances, multiple recordings, multimedia instillations, and work on numerous film scores. After previous releases on Fact and Earsay Records Grundik + Slava have chosen to pair with the German label Stateart Records. Between Stateart's reputation for releasing the very highest level of innovative electronic music and Grundik + Slava's reputation as electronic music pioneers it seems to be a logical match.
Grundik + Slava have been in permanent collaboration since 1994 when they met at an Israeli university. This duo has explored balance and innovation through electronic music ever since their meeting a decade ago. Confessing to very different personalities the music of Grundik + Slava has become a way to explore the harmony and balance between opposing forces that is sometimes subtle yet so essential. "For Electronics and Birds" continues Grundik + Slava's signature mastery of electronic music and avant garde composition. The album comes in a beautiful CD foldout digipack that features exclusive original ink drawings by Naomi Okamoto. The CD packaging is very nicely thought out and the ink drawings add a very Zen like quality to the presentation and are beautifully in synch with the feel of the album. "For Electronics and Birds" consists of ten individual songs or pieces. Contributors include Birds – singing, Grundik + Slava – electronics & treatments and Victoria Hanna – vocals.
The album opens with the delicate composition "Pattern in Time." "Pattern in Time" begins with the clear chirping sounds of small birds. Very simple warm electronics gently chime in weaving a spell of relaxation and release. The music consists of what sounds like a toy piano and minimal atmospheric electronics and drones. The mood is warm and ultra soft. The experience is like floating through the air while asleep and dreaming. The sparkling sounds of chimes joins the musical fray with random other unknown sounds. A slight sense of rhythm is established over the electronics and the music picks up yet remains gentle and easy. As you glide through the ambience you are gently led forward as if your soul where being blown by an ever so light wind. The music has an enchanting quality that is almost like hypnosis. You find your mind opens, your soul begins to wander; memories start to pour through the mind like leaves being blown down a side walk in autumn…
Track two is titled "Virola." "Virola" begins the albums departure from cozy sounds and initiates the listener into more active atmospherics that are tinged with dissonance and tense with balanced elements. Virola exudes a sense of caution, the music moves forward with a subtle hesitation as if concerned with what may lie ahead. Rhythmic elements stutter out rather than roll and the atmospherics reach piercing levels as they wobble between frequencies. Though "Virola" is every bit as calm and deliberate as the opening track "Pattern in Time," the mood is distinctly darker and devoid of warmth or sanctuary. Though the above description may invoke the dark ambient genre for some readers this would be mistaken. "Viola" is distinctly much more avant garde in its explorations. The third composition is titled "Lost Fado." "Lost Fado" is yet another new departure that bares little resemblance to previous songs. "Lost Fado" finds Grundik + Slava exploring slight eastern influences and the utilization of co conspirator Victoria Hanna's voice. "Lost Fado" has a very unique quality that is akin to listening to Dead Can Dance while drunk out of your mind and sinking in the middle of the ocean on a damaged ship.
The fourth track titled "Music for Mr. Ambient." "Music for Mr. Ambient" is a return to the lighter dimensions of "For Electronics and Birds" and helps the listener find their center after previous excursions. The song is filled with crystalline electronics that bubble fourth like water from a spring. There is a slight rhythmic infection that adds a minimal pop quality to the song. The over all feeling is one of balance. After flying into the sun, exploring the darker side of the moon and then traveling east while intoxicated the listener finds these many elements join in an intentional balancing act through "Music for Mr. Ambient." The fifth track is tilted "Final." "Final" once again transports the listener into deep trance with heavy atmospherics and steady drones that remain uninfected by intrusive rhythms or random elements. "Final" is notably short with a total playing time of just over one and a half minutes. Much like a painter clearing the canvas "Final" ends with the soft calls of birds and the sounds of nature.
The sixth track on "For Electronics and Birds" is "Music Box." Akin to its name the song features the manipulated sounds of a simple music box. Notes descend like rain in a tumbling storm of delicate sounds. "Music Box" is beautiful in its child like simplicity and evokes memories of peace and remembrance. "Music Box" also marks yet another mood shift within the music. Completely devoid of dissonant elements the song lulls the listener into memories of bare feet and simpler times. "Music Box" remains linked to its predecessors by the signature birds calls found at the end of the song. And in this instance, the bird calls sound amazingly appropriate and natural. The essence of Grundik + Slava's sentiment is beautifully captured on "Music Box." "Pianka Do Golenia" is the seventh track on "For Electronics and Birds" and marks yet another strange divergence. With accordion, humor and exuberance Grundik + Slava capture a unique and captivating journey in sound. Just as you feel the inertia of the accordion and electronics captivating you Grundik + Slava revert to samples of natural recordings and bird sounds. Once again the results are stunning as the listener witnesses Grundik + Slava hand over the stage to some of natures other musicians. You do not have to be a huge bird lover to appreciate the conceptual and tangible quality of Grundik + Slava's innovative approach.
"Song for Dong" is the eighth foray on "For Electronics and Birds." Grundik + Slava continue the utterly consuming journey into their intricate world of sound and spirit. "Song for Dong" is a combination of expanding electronics and awkward electronic sound structures that stray about the music like lonesome souls. The song communicates conflicting feelings at once initiating a sense of innocence, resignation, and sentimentalism. "Song for Dong" demonstrates the bands ability to craft psychedelic elegance from simple sounds. "Rain Music" is the ninth song to grace the album and by this point any listener will find themselves thoroughly engulfed by the delicate nuances and textures of Grundik + Slava. "Rain Music" seems quite the fitting title as the soft haze of a rainy spring day is easily communicated. The song begins quite tranquil and slowly builds into one of the most active songs on the album. The clouds begin to part as the music quickens and brightens. An invigorating sense of renewal and continuation is expressed in the music. The cycle completes itself with the music surrendering into more relaxed territory and sub sequentially ending with natural sounds and birds singing.
The last song on the album is "Inarticulate Pattern." "Inarticulate Pattern" is the sentimental finale to a very amazing musical journey. Bursting with sentimentality and the unique guineas of Grundik + Slava "Inarticulate Pattern" masterfully ends a very unique listening experience. Grundik + Slava have proven without question that experimental and avant garde electronic music need not be emotionally sterile. Indeed these two pioneering artists will open the minds of many listeners to the potential of experimental electronic music.
"For Electronics and Birds" is a highly recommended album for ambient and electronic music fans. Be you an electronic music neophyte or an old grizzled veteran of electronic music Grundik + Slava are sure to take you on a journey you will treasure. Radical faeries and friends who are frightened by categories like experimental and avant garde need not fear Grundik + Slava. Grundik + Slava have merged the often emotionally sterile world of avant garde electronics with their gift for communicating subtle emotional nuances. The result is an album of the highest quality. "For Electronics and Birds" is sure to appeal to anyone with a heart and soul and a reasonably open mind. Veterans of electronic music will be amazed at the simplicity and effectiveness of the music and will marvel at the innovative spheres Grundik + Slava explore.
"For Electronics and Birds" is excellent music to accompany deep relaxation, self initiated visualization, day dreaming and possibly romantic interludes. "For Electronics and Birds" would be a great album to great the first snow or the warm rains of spring with. Enjoy.
kunstkamera: reviews and interviews