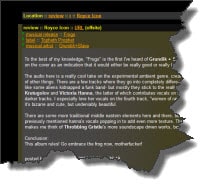 To the best of my knowledge, "Frogs" is the first I've heard of Grundik + Slava. I definitely had no clue what to expect, but I more or less took the cute frog drawing on the cover as an indication that it would either be really good or really bad. Luckily, this record falls into the latter category.
The audio here is a really cool take on the experimental ambient genre, creating beautiful soundscapes using dark synth sweeps, found sounds, guitars and a bunch of other things. There are a few tracks where they go into completely different territory- especially the second track, 'a frog gets over his fear of water', which sounds like some aliens kidnapped a funk band- but mostly they stick to the really experimental ambient stuff. "Frogs" also features the talents of Chaos As Shelter, Igor Krutugolov and Victoria Hanna, the latter of which contributes vocals on half of the tracks, giving them a really weird feel, adding a somewhat playful side to the darker tracks. I especially love her vocals on the fourth track, "women of rain forest". imagine if the vocalist from melt banana took a lot of lithium and really sang; it's bizarre and cute, but undeniably beautiful.
There are some more traditional middle eastern elements here and there, but mostly this disc keeps to its really nice experimental dark ambient textures with the previously mentioned hanna's vocals popping in to add even more texture. There are always new sounds coming into the mix, it never gets boring. In a lot of ways this makes me think of Throbbing Gristle's more soundscape driven works, because it has that definite vibe to it.
Conclusion:
This album rules! Go embrace the frog now, motherfucker!
kunstkamera: reviews and interviews